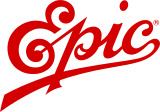 Epic Records
is an American record label owned by Sony Music Entertainment, a subsidiary of Sony Corporation of America, Inc.. Epic was founded predominantly as a jazz and classical music label in 1953. It later expanded its scope to include a more diverse range of musical genres, including pop, R&B, rock and hip hop. Historically, the label has housed popular acts such as Michael Jackson, Cheap Trick, Shakira, Celine Dion, ABBA, Anastacia, Boston, Dave Clark Five, Gloria Estefan, Pearl Jam and Sly & the Family Stone.
Along with Columbia and RCA Records, Epic is one of Sony Music Entertainment's three main record labels. L.A. Reid has served as chairman and CEO of Epic since July 2011. Sylvia Rhone was appointed president in March 2014. Artists currently signed to Epic include but are not limited to Fiona Apple, Sara Bareilles, Mariah Carey, Keyshia Cole, Future, Fifth Harmony, Jennifer Hudson, Zara Larsson, Jennifer Lopez, Outkast, Ozzy Osbourne, Judas Priest, Busta Rhymes, Rick Ross, Sade, 21 Savage, Travis Scott and Meghan Trainor.
In December 2011, Cher signed a contract deal with Epic Records but she had been dropped by the label after the release of Sorry I'm Late.
Ad blocker interference detected!
Wikia is a free-to-use site that makes money from advertising. We have a modified experience for viewers using ad blockers

Wikia is not accessible if you've made further modifications. Remove the custom ad blocker rule(s) and the page will load as expected.