Big Time Rush

Information
Episode:
Big Time Scandal
Airs:
May 9, 2013
Episode Number:
#402
Big Time Scandal is the episode title of Big Time Rush that Cher Lloyd appeared in. [1]
Trivia
James, desperate for attention, and Katie create a lie that he and Cher Lloyd are releasing a hot new duet and video.
The band makes headlines when Lucy, Kendall's ex-girlfriend, pulls a sort of Taylor Swift and releases an album about being dumped by Kendall and it becomes a huge hit. Meanwhile Carlos gets bad press when he attempts to swat a bee but it looks like he's hitting old ladies.[2]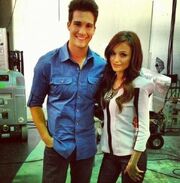 References
"Start Talkin' That!"
This article is a stub. You can help the Cher Lloyd Wiki By expanding it.